Based on the technology continously developed to meet customer needs to win abundant achievements with major manufacturers
Proudly to become the top share in blow molding dies in Indonesia, also provides vacuum dies for Panasonic refrigerators and supply to 5 countries : Brazil, Philippines, Vietnam, Indonesia and India.
With support from Japan companies, the order of injection mold increasing in the last years.
Production Results. #01
Blow Mold for Automotive Spoiler
The first blow mold manufactured in-house was a spoiler. At that time, we didn't have enough capacity to make everything like we do now, so we only made one side, and the other side was imported from Kanto Seisakusho.
The photo shows the spoiler mold currently under construction (October 2021). Due to the complicated shape of the car body, we use a large slide mechanism to create a shape in places that are difficult to blow molding. During process, hot water is used to maintain the temperature mold nearly 80 ° C, this is why a copper pipe used"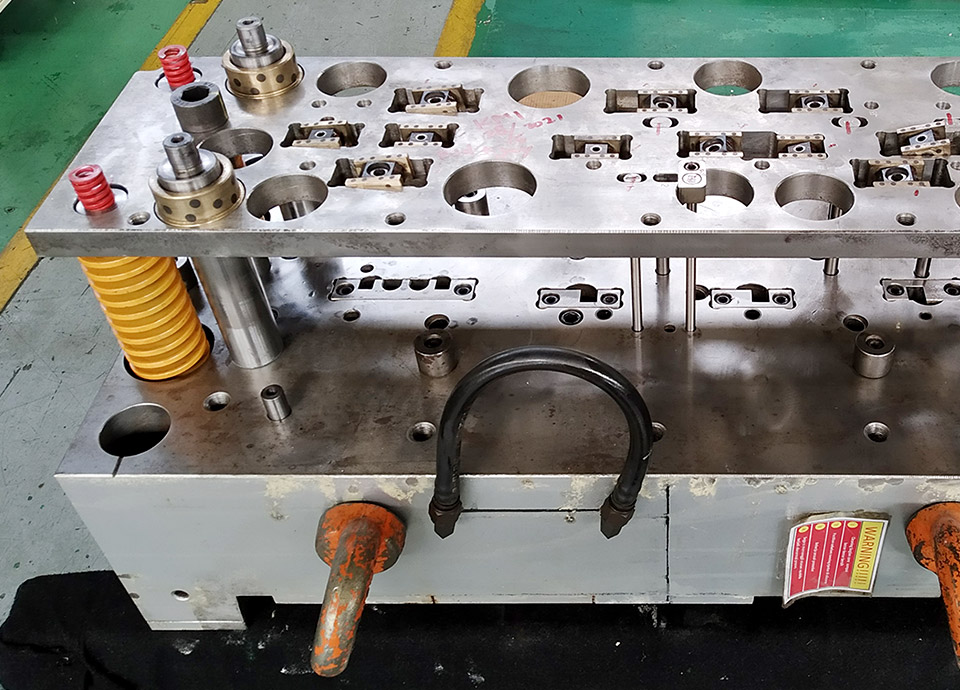 Production Results. #02
Injection mold for safety and security parts
The injection mold started production in 2016, Prior to equipment reinforcement, we emphasize "human resources development", and employees go through training at Japanese group companies before making molds. Members of all departments are training in Japan, including design, cutting, electric discharge, finishing, assembly, quality check, and initial trial.
The photo shows the repair of burr on the mold of safety and security parts. The mold transferred from the customer to be repaired by KMI upon their requested.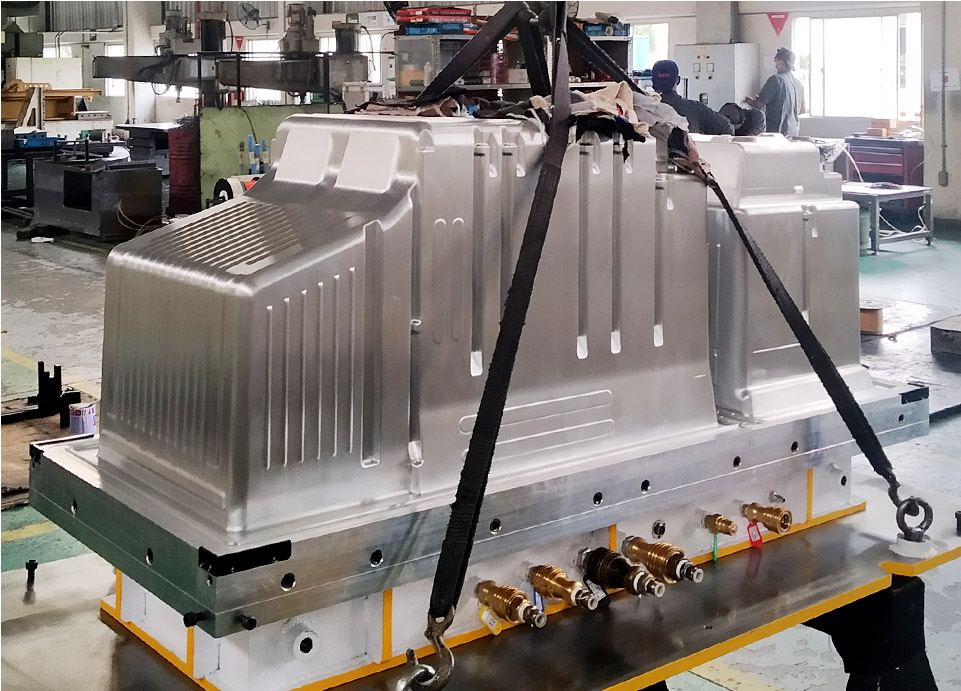 Production Results. #03
Vacuum forming mold for Panasonic refrigerator
For the first time The vacuum mold started production in 2006. Initially, the mainstream vacuum molds for refrigerators were female molds type (bathtub type), but nowadays, male molds type is used for better dimensional accuracy. A slide system / temperature control equipment, etc. are incorporated in this three-dimensional mold to meet customer needs.
In addition, we also manufacture a set of ""foam jigs"" for urethane injection and ""trimming dies"" used for drilling holes in molded products."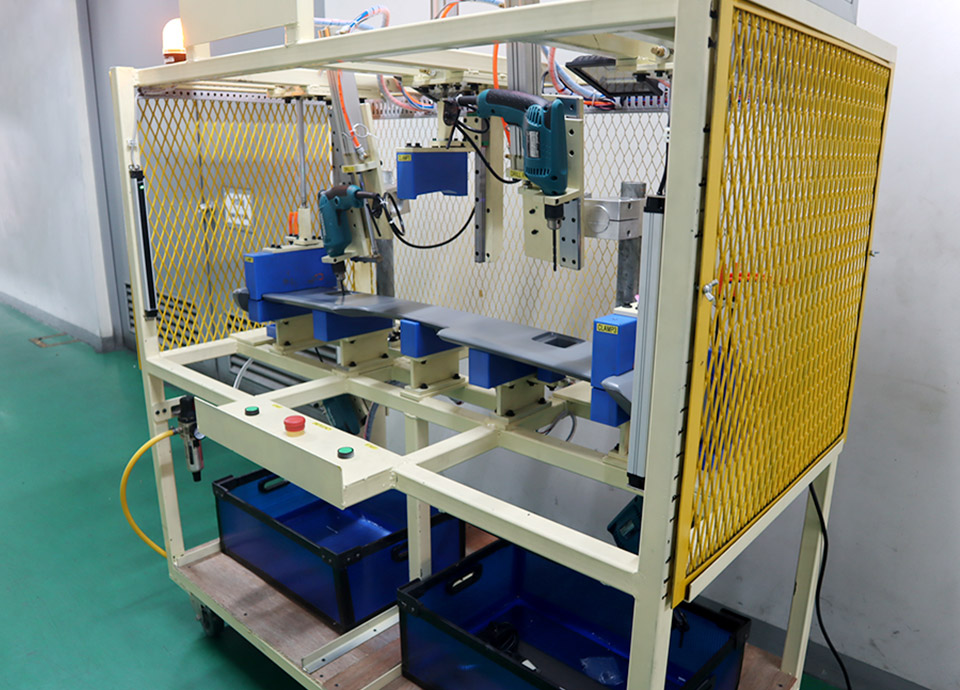 Production Results. #04
Special Purpose Machine
After the blow molding process almost certainly requires a mechanically driven special purpose machine. This machine can function to perform post-production balloon cutting, drilling, punching, welding, leak testing and others. Based on 3D product data, beside used for making mold , we can also directly make post-production processing machines. We are also able to make a hole drilling machine on the product for the process of installing bolts on the vehicle body. This is a machine that can make 2 holes at the same time in a predetermined place.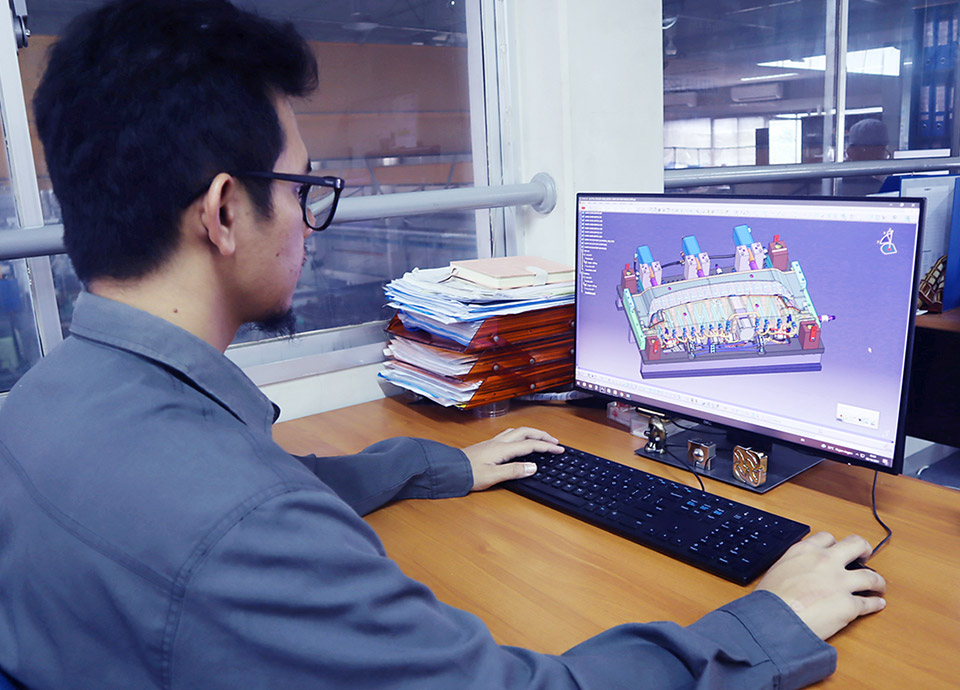 Production Results. #05
Own licence CAD / CAM data as intellectual property for sale
CAD / CAM data sales require a license to sale as intellectual property. Therefore, from the beginning of the company's establishment, we have been developing human resources with the goal of selling data. The design staff who fluent in Japanese, so there is no problem conduct direct meetings with Japan customers.
In the future, we plan to carry out a detailed inspection of finished products. We believe that it will be an important material for deciding the direction of repair / correction by comparing the actual process and the difference from the 3D data as numerical values.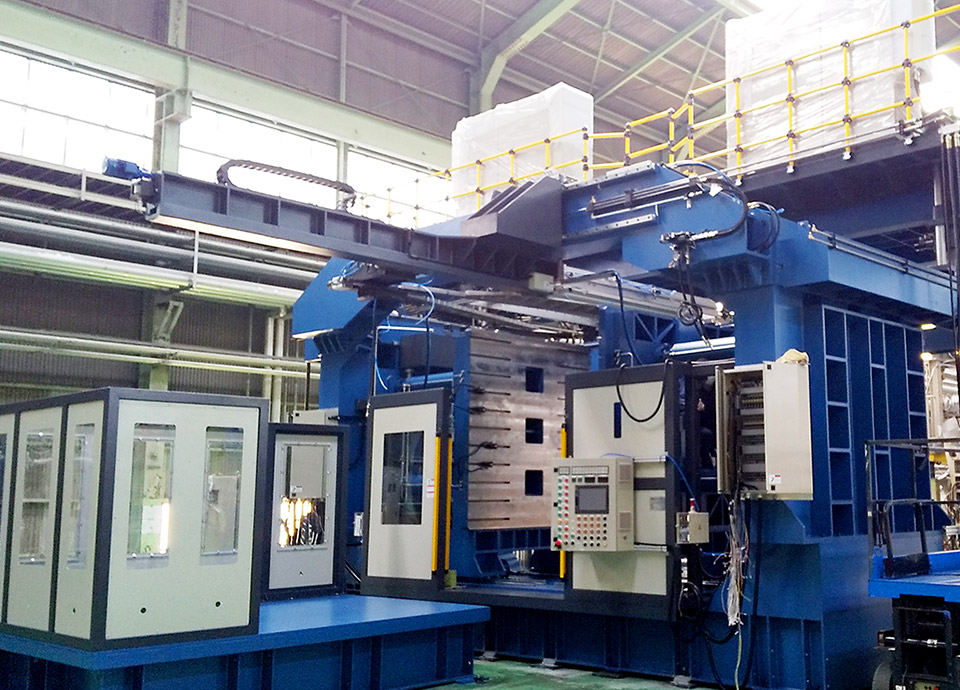 Production Results. #06
Blow Molding Machine "SIKA" Brand
We have a group company that manufactures blow molding machines in Taiwan, and in fact, we found considerable number of machines installed in Indonesia. Up to now, we also install and sell 1 to 2 units / year.
Our strength is that we can provide consistent services from machine specification meetings to import applications until installation. The installation staff can also speak Japanese, so if you have any questions, please contact us in Japanese. Regarding maintenance, we will carry out consistent work and discussed directly with Taiwan until parts replacement if required.