Closely cooperation with Japanese group companies
Strengths of staff power that gained "Japanese way of thinking"
By collaboration with Japanese group companies, KMI has capable to deliver molds as high manufacturing Japan level.
In addition, staff with "Japanese way of thinking" and craftsmanship will meet the expectations of clients.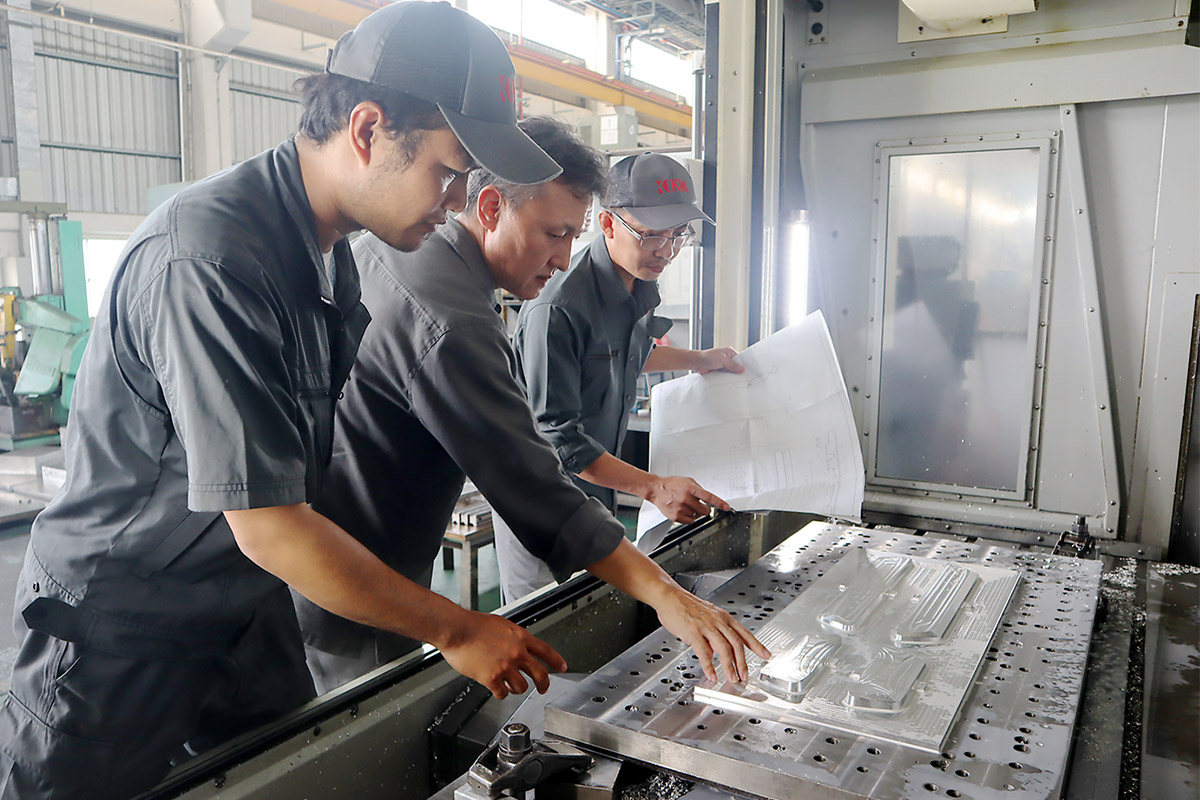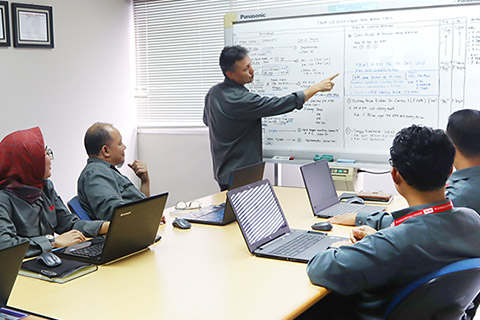 FEATURE. #01
Cooperation system
with Japanese group companies
KMI always cooperates with Japanese companies "Kanto Seisakusho Co., Ltd." and "Nakamura Seiko Co., Ltd.",

In general, many plastic product projects developed in Indonesia are projects that have developed and then expanded from their country of origin to abroad such as Japan. Especially blow molded parts in automobile industry, Kanto Seisakusho has mastered 50% market share in Japan as blow mold maker, and many molds which KMI manufactured in Indonesia, were already made by Kanto Seisakusho once.
Therefore, detail technical information regarding manufacturing process can be shared which can help to speed up mold completion with high quality as Japan standard.
At the design stage, data can be directly confirmed by Japan molding manufactures via Kanto Seisakusho, so we are able to proceed soon with the changes.

We also able to support of maintenance, correction or local procurement for mold purchased from Japan. Focusing in after sales service after mold completed and we give best effort to do correction and maintenance according to customer desired schedule.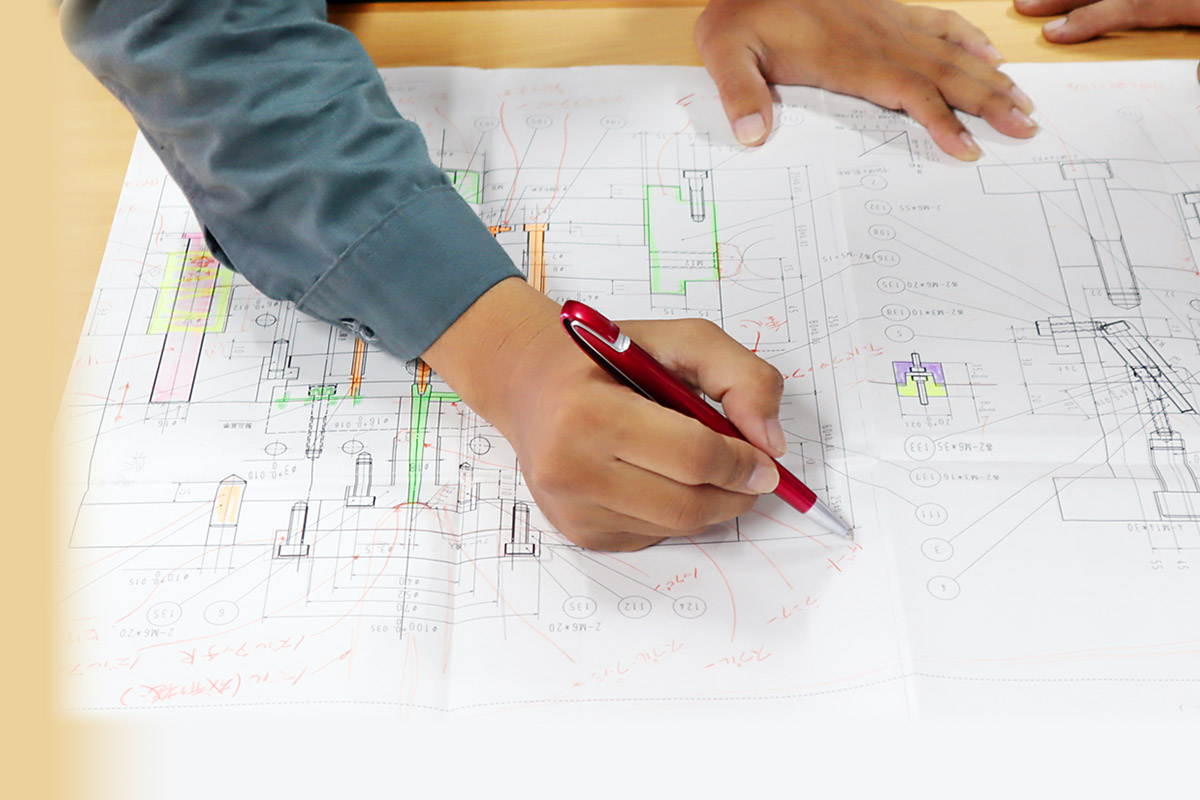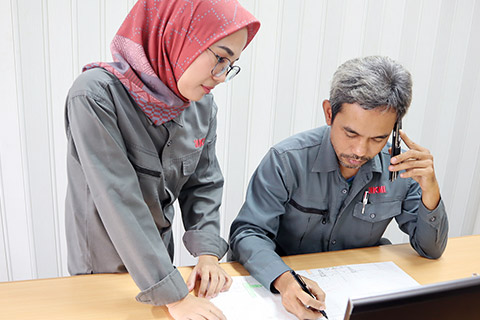 FEATURE. #02
Mold manufacturing
with high quality design
New mold project will be handled by a designer who had been trained using CAD ( CATIA ) in Japan for period time.
When our designer completed to make blow mold and injection mold, the CAD data is transferred to Kanto Seisakusho for checking and confirmed by experienced staff. During checking, sometimes they propose big corrections such as changing slide system or shape change.
In this way, based on the instructions with "Red Pen" from Kanto Staff our designer will follow it. Then transfer again to get final approval from Kanto staff before we continue to manufacture process.

Making mold is not finished in this way, only made and delivery it. It sometimes requires adjustment and changes to produce good product as client requirement. However, to minimize adjustment and changes, KMI always put best effort to make mold which is easy to adjust during process by eliminating problems may occur in advance.
Therefore, we are very focused on "design", which is the upstream process, and always maintain a close cooperation system with Japanese companies.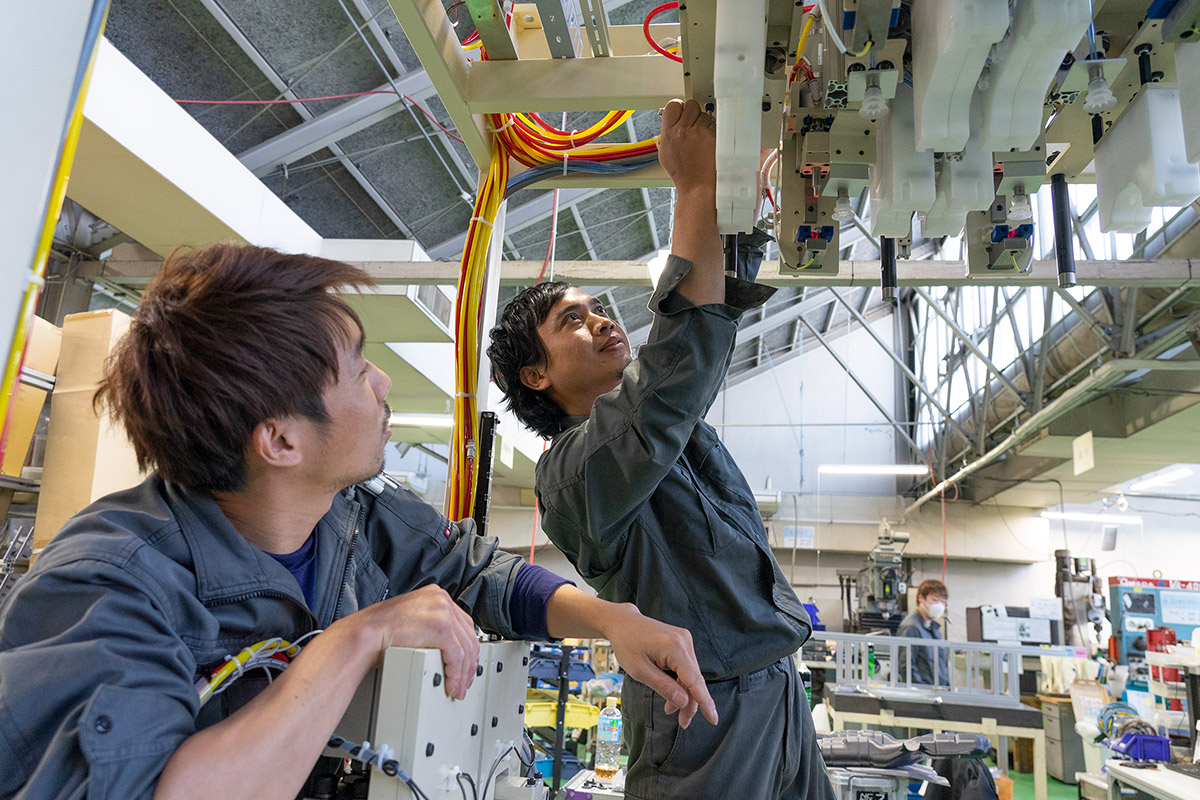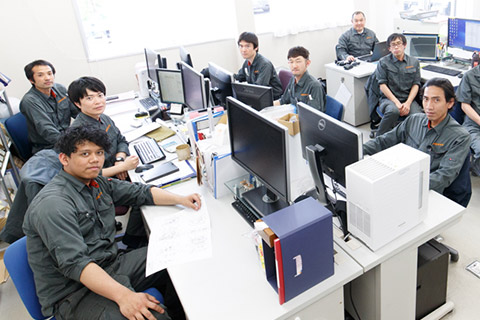 FEATURE. #03
Staff who have "Japanese way of thinking"
Our greatest strength is that our staff has a long tenure with us.
Shortly after joined the company, the staff will transferred to Japan company for certain period ( 1,5 - 3,0 years ) to have training and get knowledge through practical work. Therefore, after returned from Japan, the staff will inevitably acquire fluent Japanese and " Japanese way of thinking".
For example, the "Japanese way of thinking" does not consider work only from the "salary" and "hours" aspect, but decides for yourself whether to work overtime or not, according to the needs of the job. In addition, because we understand the condition that the mold maker cannot delay the production schedule, we will respond as best we can even on holidays if the mold is malfunctioning or damaged as soon as possible.
In other words, our staff also understands the importance of making efforts to win the "trust" of clients and maintain it after winning it.

In addition, the quality of the staff is quite outstanding in understanding the technology of mold making.
Taking the finishing work of molds as an example, during training in Japan, I work side by side with expert. Therefore, by touching the mold, you can feel the presence or absence of steps and the feeling of strangeness in the shape in units of "1/100 mm".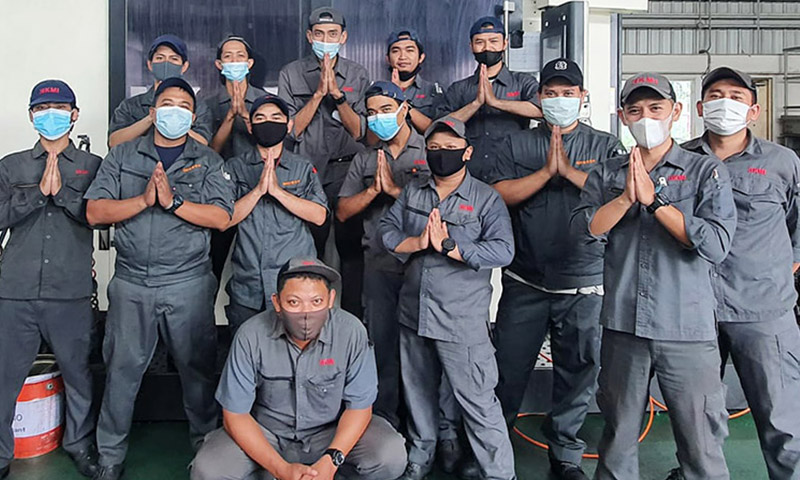 This "staff power" is the evidence that KMI can meet the expectations of clients most.
Human resources who are good at Japanese and can engage in mold making with a Japanese sense. The fact that this system was realized in Indonesia is undoubtedly the result of many years of collaboration with Japanese companies. The KMI was filled with a relationship of trust in which the staff members worked hard with each other and enjoyed the growth of their peers, and each of them must have been a major factor in acquiring their current technical capabilities.
We pride ourselves on this strength that we can be proud of for the entire Southeast Asia, which cannot be imitated by our competitors.
Introduction of Japanese Group companies that guarantee the quality of KMI
KMI always cooperates with Japanese companies "Kanto Seisakusho Co., Ltd." and "Nakamura Seiko Co., Ltd.", which are group companies.
We are making a leap in customer satisfaction by closely training staff and sharing information on each project.